In spitting distance from Lisbon – peaceful and wild CASCAIS
And colorful, but that's predictable
.
Because colors and Portugal are practically synonyms. To be honest, I've never seen city like Cascais. Just imagine, that the beach is part of its city center. As well as the sun and waves. Follow me, you're invited.
,
–
The coast
.
If you arrive from Lisbon by train (2,20€ one-way from Cais Do Sodré station), walking along the coast will be the most interesting. It's surrounded by little stalls with handmade goods and chimes. That is Cascais' soundtrack – soft chiming and sea waves sounds.  

.
–
City center
.
Few minutes walking from the station and you are in the city center – Praça 5 de Outubro, which means the city hall, a church and right in front of it – a beach. 
–
–
Then, continue walking to the marina and Farol de Santa Marta lighthouse. And right across the street, you should visit yellow castle – museum Conde de Castro Guimarães. Its garden is really beautiful and green, even in winter. Moreover, it's home for bunch of hens and roosters, crowing at each other. It would feel like in my grandma's garden again, if there weren't palms and exotic flowers around 😄.
–
-.
Boca do Inferno
.
Take a bike (but it's reachable on foot too) and walk/ride to Boca do Inferno. This part of the city looks totally different than the rest – wild waves and rocks, beautiful seascapes. This place really amazed me. So I sat on the rocks and observed, listened… basically, I was present in the first place. 
.
.
Street Art
.
You should definitely explore local street art – pink house and colorful painting at Rua Nova da Alfarrobeira and amazing house paintings in the neighbourhood de Torre. Unfortunately, I hadn't any time left, but they are looking great even on the internet. 
—
–
Beaches
.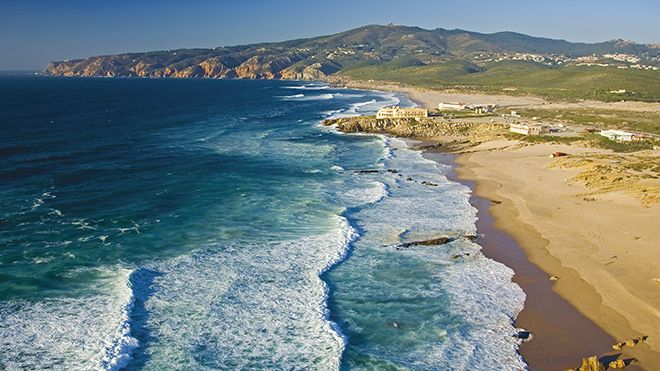 In summer, you can refresh yourself on local beaches. The beach in the center is usually crowded, but you can reach beautiful beaches nearby by bicycle or car – for example Praia do Guincho on the west or some smaller and bigger beaches in the opposite direction – like Praia Poça or Praia da Azarujinha.
–
Cabo da Roca
.
You should also visit Cabo da Roca when you're already in Cascais  – "ponta mais ocidental do continente europeu" – the westermost point of Europe is only 15 kilometres away.
Tip for women – don't forget hair ties and dress wisely – no airy skirts, because it's really windy at the end of Europe! However,  it (and nearby Ursa beach) are amazing places.
.
Cabo da Roca is reachable from Cascais by the bus 403 (3,40€ one way) from Cascais Bus Terminal.
–